Hysteroscopy in the diagnosis and therapy of intrauterine disorders is now standard procedure in clinics and, to an increasing extent, in outpatient settings and private practices. Thanks to the miniaturization of the hysteroscopes, many procedures can now be performed with a minimum of trauma and without general anesthesia away from the OR. KARL STORZ has played a major role in this development and offers a number of "office" hysteroscopes with very small diameters.
Along with a product line for standard gynecological procedures using hysteroscopic and/or laparoscopic techniques, the KARL STORZ portfolio also includes endoscopes and specialized instruments for reproductive surgery and fetoscopy. Various amnioscopes for obstetrics or ductoscopes for mammary ductoscopy, with a diameter of approx. 0.8 mm, round off the range of products for gynecology.
Many gynecological procedures today can be performed using laparoscopic surgical techniques. Our product range is constantly being expanded not only to include morcellation systems or uterine manipulators for standard procedures such as myoma enucleation or supracervical hysterectomies (LASH) but also to offer instruments for niches such as the creation of laparoscopic-assisted neovagina.
"This webpage content is intended for Healthcare Professional only, not for general public"

Please visit www.karlstorz.com for more information.
Creating Certainty: Diagnostics and Treatment Outside the OR
Solutions for office hysteroscopy
Office hysteroscopy allows the diagnosis of any abnormalities in the uterine cavity while 5 Fr. instruments make immediate treatment possible. Narrow-lumen hysteroscopes enable procedures to be performed outside the OR without anesthesia or dilation of the cervix. Furthermore, hysteroscopy can be used to rule out any possible obstacles to implantation prior to IVF treatment.
Outsourcing diagnostic services and minor hysteroscopic procedures expands the capacity of the OR
CAMPO TROPHYSCOPE® with a diameter of only 2.9 mm allows a primary approach to the uterine cavity under visualization
HYSTEROMAT E.A.S.I.® automatically maintains a stable uterine cavity
Compact and mobile TELE PACK X LED imaging unit for universal use with integrated documentation
SupraLoop – Bipolar Loop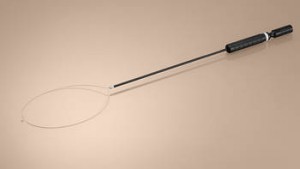 For laparoscopic supracervical hysterectomy
In addition to the well-known SUPRALOOP unipolar loop, we now offer a bipolar SUPRALOOP for the removal of the uterus in supracervical hysterectomy.
Special features:
Bipolar loop available in two sizes
No neutral electrode necessary
Reduced operating time thanks to quick removal of the uterus
Additional cost savings thanks to reusable handle and outer sheath
KARL STORZ Near Infrared (NIR/ICG) System in Gynecological Laparoscopy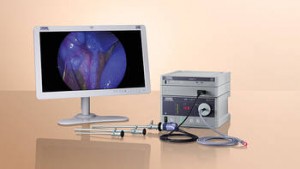 The near-infrared (NIR/ICG) system from KARL STORZ provides visualization beyond the tissue surface. Near-infrared (NIR) technology makes it possible to visualize the distribution of the fluorescent contrast agent indocyanine green (ICG). In gynecological laparoscopy, this technique is used for the identification of sentinel lymph nodes and for lymph mapping in gynecological oncology interventions. The NIR/ICG system from KARL STORZ enables visualization of ICG through the lymph vessels and lymphatic system network. ICG-compatible telescopes are available to the operating surgeon for both laparoscopy and open surgery (VITOM®).
Fluorescence mode with background illumination
Quick switchover via footswitch between white light and ICG modes
Enhanced fluorescence imaging with IMAGE1 S SPECTRA A for weak fluorescing areas
Telescopes for endoscopic and open surgical interventions
Modular expandability of the IMAGE1 S system to 3D, flexible and open
Imaging in the Gynecological Outpatient Clinic or Practice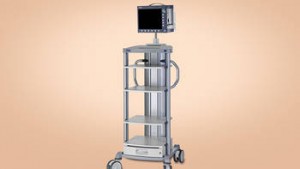 A basic concept with many expansion options
The broad product portfolio from KARL STORZ offers the possibility to develop a customized concept for hysteroscopy in the outpatient clinic or office setting. Depending on the type of procedure planned, i.e. pure diagnostic or surgical interventions, more equipment can be added to suit individual preferences.
The TELE PACK X LED from KARL STORZ provides a compact solution for imaging and documentation. It combines a monitor, light source, camera control unit and data management in one unit. Its easy portability makes the TELE PACK X LED ideal for use in private practices or clinical outpatient departments. Thanks to the new network function, it is now possible to feed patient images and videos into the hospital or practice network.
More recent options for an individual configuration of the hysteroscopy tower from KARL STORZ are presented below. This can be used in the case of infertility or for bleeding disorders during hysteroscopy, while it is also possible to add further components for the purposes of medical consultations, e.g., on dysplasia or urogynecology.
Rapid Tissue Ablation with a Small Diameter! IBS® for Mechanical Resection in the Office Setting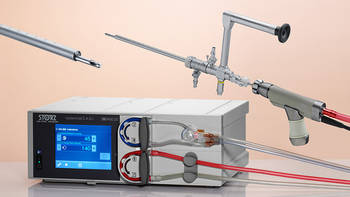 Intrauterine BIGATTI Shaver (IBS®) with HYSTEROMAT E.A.S.I.®
With an optical system that features an outer diameter of only 6 mm, the Intrauterine BIGATTI Shaver (IBS®) is inserted into the minimally dilated cervix. Thanks to the 4 mm shaver blade, the immediate removal of intrauterine pathologies is now possible outside the OR, e.g., in office settings and clinical outpatient departments or IVF centers.
Mechanical removal of intrauterine pathologies such as polyps, myomas or placental remnants
Clear visualization at all times thanks to direct suction of the resected tissue via the HYSTEROMAT E.A.S.I.®
Fully reusable system
Fast learning curve – not using HF current lowers the risk of complications
HYSTEROMAT E.A.S.I.® can be used for all hysteroscopic interventions
VITOM®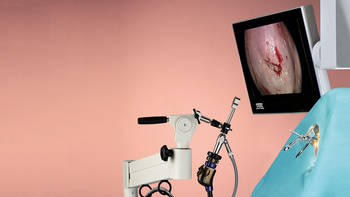 Extracorporeal visualization, magnification, and documentation
The VITOM® is an exoscope which – unlike an endoscope – is not inserted into the body but placed at a working distance of 25-75 cm above the surgical field. The VITOM® system can be used in the OR for the visualization and documentation of colposcopic interventions in FULL HD quality, i.e. for conization with the electrical loop as an excellent alternative to conventional colposcopes.
Special Features:
Magnified images during colposcopy, conization or open surgery
Ideal for training, documentation or streaming vaginal, abdominal
or mammoplasty interventions
High-resolution images when using an endoscopic FULL HD video system
(e.g., IMAGE1 S)
KECKSTEIN Uterine Manipulator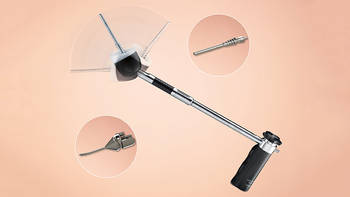 Extraordinarily versatile
The versatile KECKSTEIN uterine manipulator makes gynecological surgery in the lower pelvis easier and safer. Presentation of the operative field during hysterectomy as well as organ-preserving surgery is greatly enhanced in comparison to conventional manipulators thanks to the possibility of anteflexion and retroflexion of the distal tip and cap. Various configurable atraumatic inserts for interventions in reproductive medicine or oncology offer the operating surgeon completely new surgical possibilities.
Special Features:
Manipulator for all procedures in gynecological laparoscopy
Anteflexion and retroflexion of the distal tip and cap
Atraumatic inserts for organ-preserving and oncological interventions