Surgery without access trauma? Natural Orifice Translumenal Endoscopic Surgery or NOTES aims to make minimally invasive surgery even more patient-friendly by utilizing existing body openings. "Single Site" or "Single Port" procedures, which primarily use the umbilicus and hence a natural scar as an access, "Reduced Port Surgery", and last but not least mini-laparoscopy pursue a similar goal.
KARL STORZ supports worldwide scientific research on these procedures, monitors and supports application development, and ensures implementation in the form of innovative technical solutions.
Current concepts in "NOTES and Associated Procedures" are presented in the overview below. Click on the category for additional information.
"This webpage content is intended for Healthcare Professional only, not for general public"

Please visit www.karlstorz.com for more information.
S-PORT®
S-PORT® is a single-port platform that is suitable for performing hybrid procedures (LAP / Single Port) where the single-port entry can also be used as an extraction site.
Special Features:
Modular system
Great freedom of movement
Stable platform for precise control of telescopes and instruments
Simple extraction of resected tissue
Variable adjustment of the incision size
Cost-effective and reusable, except for the wound protector
Can be combined with ROTATIP® instruments featuring jaw and sheath rotation
TELESCOPES
HOPKINS telescopes adapted to the demands of single-port surgery
Special Features:
Light connection offset by 180° and angled 45°
Extra-long (50 cm) telescope
Diameter 5.5 mm
Also available in 0° and 45°
ROTATIP®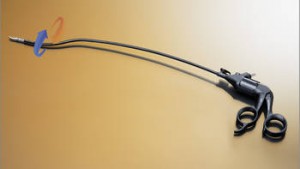 5 mm instruments with rotating jaw
Special Features:
Can be disassembled in three parts: Handle, outer sheath and working insert
With straight outer sheath and the familiar CUSCHIERI and CARUS curved sheaths
Flexible working inserts for curved outer sheaths
Four different jaw types available
Jaw rotation (endless in both directions) is independent of the outer sheath and achieved using a rotary wheel in the handle