UMMI Surgical Sdn Bhd is the exclusive distributor for Karl Storz Endoscopy in Malaysia. We commenced business activities in 2009, upon our appointment by Karl Storz. Karl Storz (www.karlstorz.com) produces the highest quality rigid and flexible endoscopes, instruments and equipment across 18 different medical specialties and is the world's most recognized brand for minimally invasive surgery products.


Our Values
We are responsible to our customers. We take responsibility to ensure the products are supplied in the same condition they left the factory and the end users are able to use them to achieve the desired results they're intended for, surgically or medically; to benefit the patients. We commit ourselves to provide the support needed for the optimum utilization of the products.
We are responsible to our people. They are our greatest assets. Taking pride in what we do, each and every member of our team contributes to deliver values to our customers. UMMI Surgical provides solutions, achieves results and earns reputation via its people. We take great effort to provide comfortable working environment and ensure the well-being of our people. We continuously invest in leadership and management programmes to nurture, develop and empower our people. We believe when people feel they belong and are secured; they consistently produce quality works and act in the best interest of the company.
We are responsible to our principal. As a partner, we are committed to market the products in the most responsible manner and we believe we deliver the best value to the customers by working closely with our principal.

Our Motto - Making A Difference
At UMMI Surgical, we strive to provide the best solutions for our customers. This can be achieved by delivering excellent products with the commitment and professionalism of our people in marketing; pre-sales and after sales services; as well as technical support. By giving our best in everything we do, we believe we can make a difference in helping our customers provide the best patient care.
UMMI Surgical and Karl Storz are committed to; and heavily support the training and educational activities of surgical and medical personnel in the area of endoscopy. Within our own capacity, we help to enhance and facilitate the learning activities. By working in partnership with our customers, we hope to make a meaningful contribution towards achieving better patient outcome.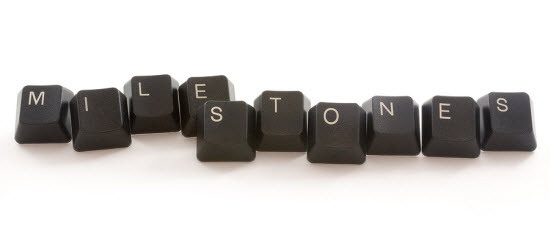 Our Milestones
2009 – Commenced business from a rented shop lot at Ara Damansara
2013 – By November, moved into our very own premise of approximately 22,000 square feet at Temasya Industrial Park, occupying half of the space we share with Medi-Life Sdn Bhd
Our Awards
2014
With the hard work and passion from our professional teams, we are honoured to have been recognized as the Best Performing Distributor of Asia for 2013 by KARL STORZ GmbH & Co. KG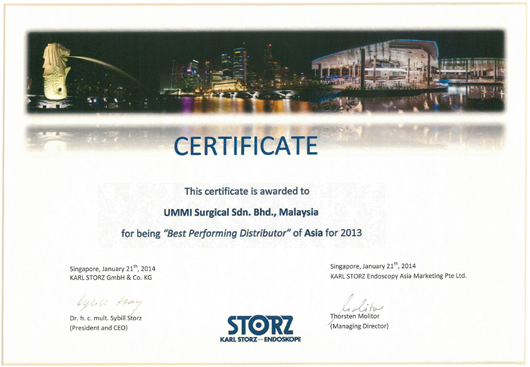 2016
The accomplishment of UMMI Surgical brought us another Award Certificate titled – "Best Success Story"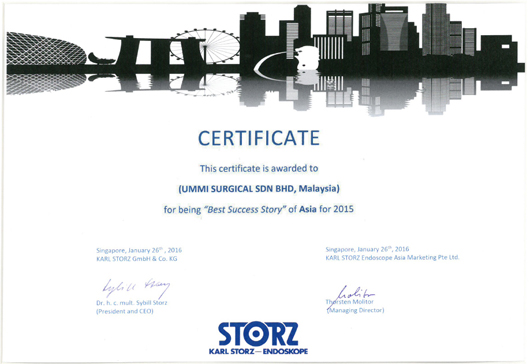 2020
"Best Absolute Growth Country" – 2019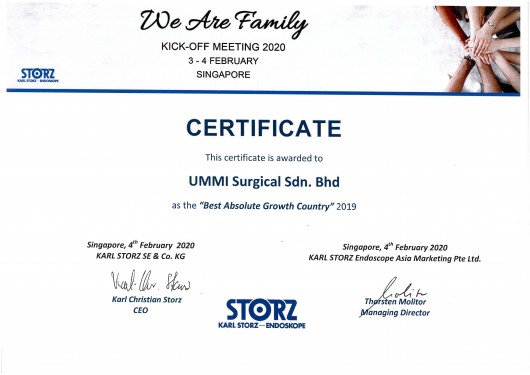 Our Working Environment
The 22,000 square feet office is designed with the welfare of the employees in mind. The building is equipped with facilities such as a Gym, a Cafeteria, and Prayer Rooms. To UMMI Surgical, a staff without worries will give their undivided attention to the company and this in return, higher productivity.
Our People
Our people are the sources of our strength. They provide our corporate intelligence and determine our reputation in the market. Involvement and teamwork are our core human value. Our people constantly and continually add real value to our business through new ideas. Realizing that people are our most valuable resources, we have rewarded our employees at all level with performance incentive plan. We have gained further commitment from our employees by rewarding them with annual out-of-country incentive trips, and annual dinners for them and their family.
At UMMI Surgical, we pride ourselves in a family-like working environment that is caring, understanding and warm.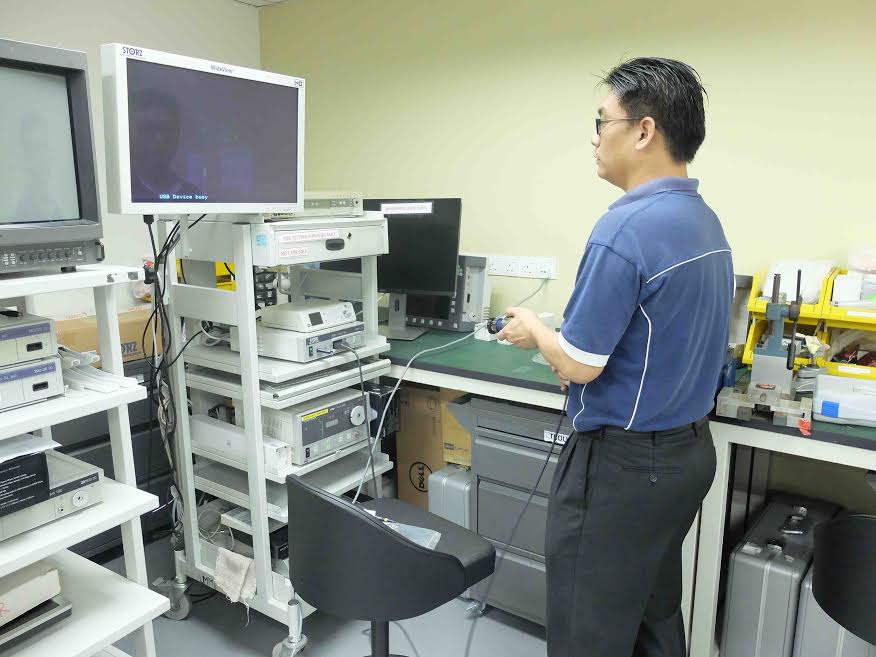 Repair Programme on Karl Storz Products (instruments, units, videoscope and camera head)
Repair Exchange/Trade In Programme For
– telescope, instruments, units, fiberscope, videoscope (any brands)
– advantages of this programme, increase uptime, save cost
Care and Maintenance Talks
Preventive Maintenance (PM)
– comprehensive
– non-comprehensive