A little About Us
UMMI Surgical Sdn Bhd commenced business activities in 2009, upon its' appointment by Karl Storz – the world's most recognized brand for minimally invasive surgery products, as the exclusive distributor in Malaysia.
With dedicated teams working together with a single objective to serve customers in the most professional manner; UMMI Surgical quickly became one of the leading entity in the surgical and medical supply scene.
Today UMMI Surgical is the partner trusted by customers who value professional conduct and reliability of services. We proudly represent:
Karl Storz Endoscopy
Kanghui Medtronic (Trauma Solution)
BD (Hernia Repair Mesh & Fixation, Urology Catheters & Stents)
Atmos (ENT Workstation & Chairs)
Teleflex (Weck Ligation, Access and Closure Solutions)

Our Values
CARING. GENUINE. RESPONSIBLE.
The well-being of our people is paramount to us. We care, nurture, enable and empower our people so that they can be their best. We believe when people are secured; they consistently produce good quality works and act in the best interest of the company.
We are responsible to our customers. We are committed to provide the support needed for the optimum utilisation of our products and services; with the sole aim to provide solutions and deliver values to benefit the patients.
As a committed partner to our principals, we are determined to market the products in the most responsible manner and we believe we deliver the best values to the customers by working hand in hand with our principals.
We are responsible to the community. As a responsible corporate citizen, we intend to give back to the community.
Our Motto – Making A Difference
At UMMI Surgical, we strive to make a difference. Together with our principals, we are committed to support the training and educational activities of surgical and medical personnel. By working in partnership with our customers, we hope to make a meaningful contribution towards achieving better patient outcome.
With that in mind we shall conduct ourselves with integrity; simply and responsibly. We intend to do our job well so that YOU can focus on your work.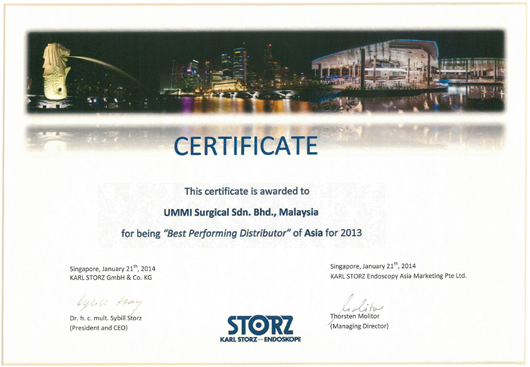 2014
With the hard work and passion from our professional teams, we are honoured to have been recognized as the Best Performing Distributor of Asia for 2013 by KARL STORZ GmbH & Co. KG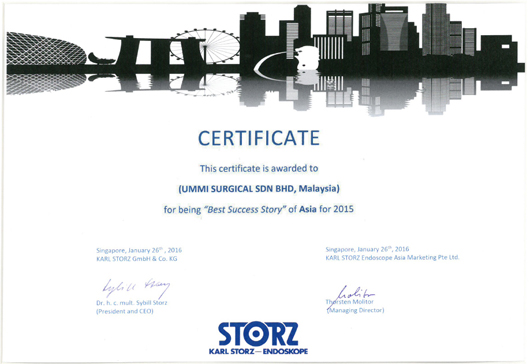 2016
The accomplishment of UMMI Surgical brought us another Award Certificate titled – "Best Success Story"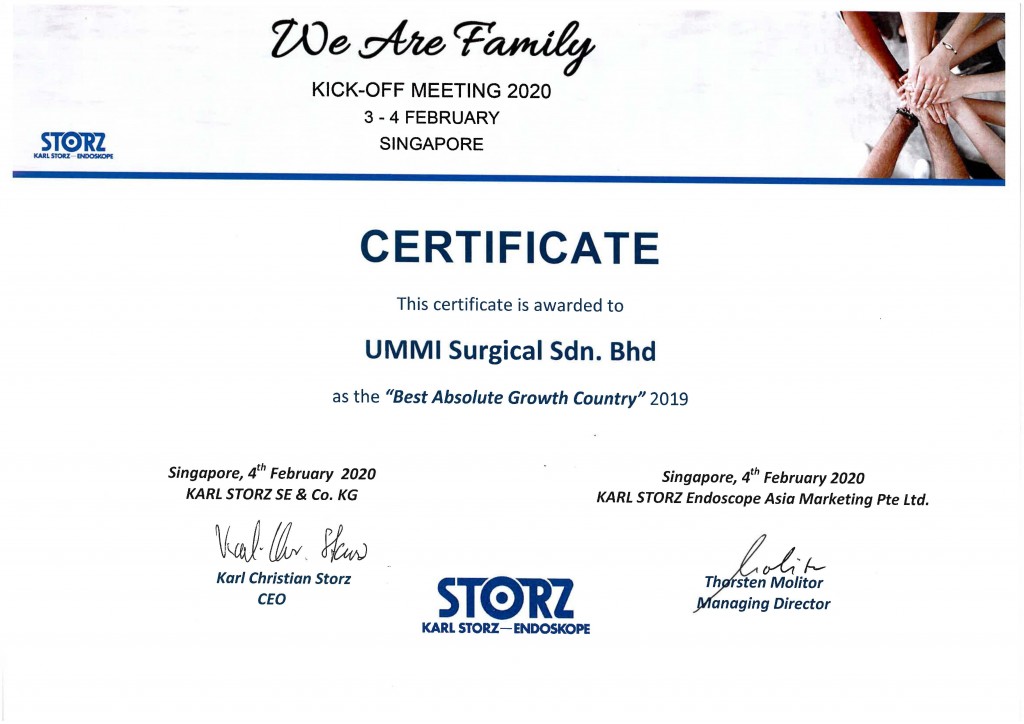 2020
"Best Absolute Growth Country" – 2019
Our People
Our people are the sources of our strength and determine our reputation in the market. Involvement and teamwork are our core human value. Our people constantly and continually add real value to our business through new ideas.
At UMMI Surgical, we pride ourselves in a family-like working environment that is caring, understanding and warm.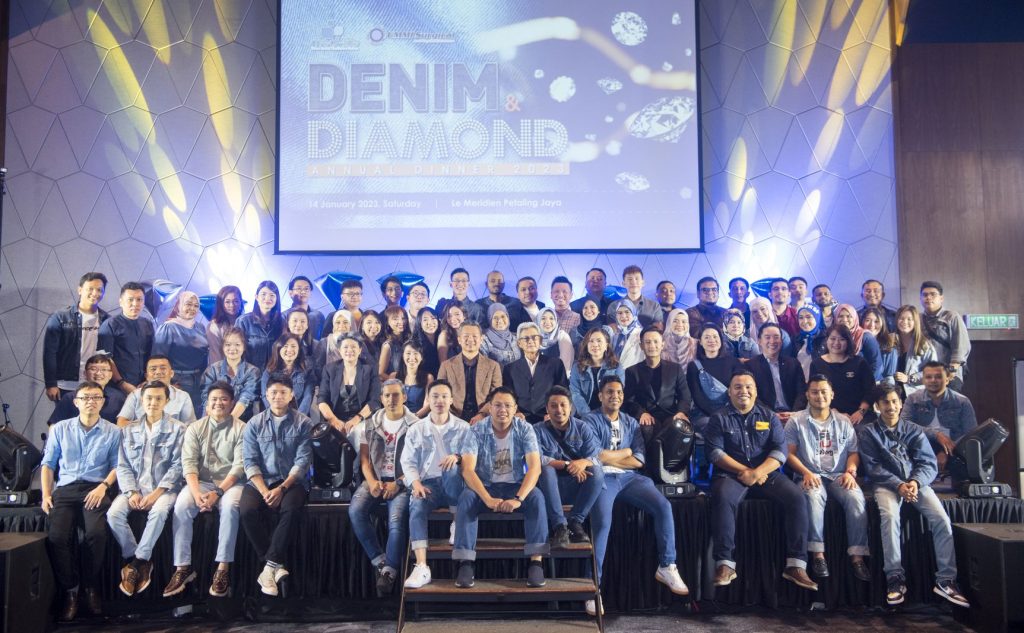 Our Working Environment
The 22,000 square feet office is designed with the welfare of the employees in mind. The building is equipped with facilities such as a Gym, a Cafeteria, and Prayer Rooms. To UMMI Surgical, a staff without worries will give their undivided attention to the company and this in return, higher productivity.