Documentation Therapeutic strategies can only be efficiently discussed if the diagnoses are objectively documented. The fact that this is now a matter of routine is due to KARL STORZ. Scientific progress would be unthinkable without a rapid, comprehensive flow of information on diagnostic findings.
The KARL STORZ enterprise has developed technologies for making diagnostic results immediately accessible to all parties involved in the treatment process.
KARL STORZ pioneered image-supported documentation of veterinary medical diagnoses initially with the aid of flash devices for 35 mm cameras and, in later years, with high powered video systems for use within the sterile area, and gained valuable experience with these systems.
Digital technology has already replaced many conventional documentation media. With the development of the integrated operating room, digital data archiving and global communication from the operating room, KARL STORZ is now pioneering applications which tomorrow will be a matter of routine.
The range of KARL STORZ products comprises state-of-the-art fully digital 3-Chip-Cameras along with mobile ALL-in-ONE solutions for the medical practice, together with the necessary peripheral devices such as monitors, video recorders and video printers. For the all-important field of illumination, KARL STORZ offers a range of unparalleled diversity that covers the entire spectrum of possible applications – from the high-power xenon light source to the mobile battery light source.

Please visit www.karlstorz.com for more information.
IMAGE1 S HX FULL HD camera heads
Smaller.Brighter.Brilliant Image.
The HX camera heads are characterized by their compact external dimensions and reduced weight. As part of the IMAGE1 S modular camera platform, these provide a cost-effective solution as KARL STORZ flexible veterinary video endoscopes can also be operated with the same camera module.
FULL HD image resolution (1920 x 1080p, 16 x9 aspect ratio) delivers brilliant, true color images
Cost effective FULL HD solution
Ergonomic and lightweight (only 130 grams)
AIDA mini
The ability to capture and archive images, videos and patient data easily and securely during procedures ensures detailed and accurate records of the diagnosis and treatment performed. It also provides a valuable knowledge base for training, education, publication and sharing with clients and colleagues.
The new AIDA mini offers a cost-effective solution for the recording of patient data and FULL HD videos and still images. An intuitive interface and user-friendly front panel supports fast and uncomplicated handling. The AIDA mini system can be controlled via the front panel, keyboard, optional footpedal or through the camera head, while patient data and diagnosis can be entered and accessed by support staff before, during or after the procedure.
Users have the option to store data on the internal hard drive or directly onto a connected USB drive for easy transfer. A USB color printer can be connected directly to the back panel in order to facilitate direct printing during procedures.
VETERINARY VIDEO CAMERA III
The VETERINARY VIDEO CAMERA III offers a small, lightweight, ergonomic head for easy handling. The head is completely immersible in fluids for cleaning and disinfection. The two function buttons on the head enable the user to easily control white balance and accessory devices, such as a printer or video recorder.
There are four c-mount objectives available: f = 12 mm, f = 25 mm, f = 30 mm and f = 38 mm. Camera features include automatic exposure control and white balance with memory, minimizing the need for manual adjustments. This versatile camera can be used for all indications in veterinary endoscopy.
TELE PACK VET X
The KARL STORZ TELE PACK VET X is the ultimate mobile endoscopic video system designed for all applications of veterinary endoscopy. This high-performance, all-in-one unit integrates every component necessary for endoscopic imaging: camera, light source, monitor, insufflation pump and image capture.
The TELE PACK VET X is compatible with all types of endoscopes, including videoendoscopes, rigid telescopes, fiberscopes and exoscopes. The compact, light weight TELE PACK VET X is the ultimate solution for small spaces as well as easy transport and quick set-up for use in multiple exam rooms.
XENON NOVA®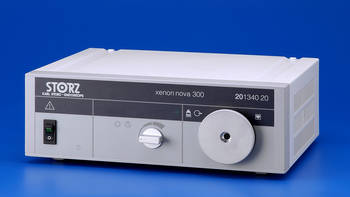 With the XENON NOVA® , KARL STORZ presents a light source powerful enough for use in all applications of veterinary medicine. It is highly recommended when performing laparoscopy, cystoscopy, arthroscopy or fiberoptic endoscopy. The high color temperature of 6000 K corresponds to that of natural sunlight, ensuring accurate color and brilliant illumination of tissues.
XENON 100 SCB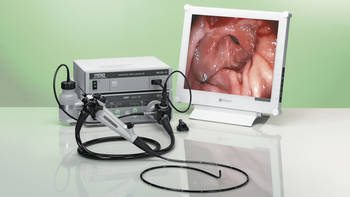 The cold light fountain XENON 100 SCB is a quiet, easy to operate, powerful light system designed for use with KARL STORZ videoendoscopes. With a color temperature of 6000K, the XENON 100 SCB has the same color temperature as sunlight – providing optimal light which can be adjusted electronically.
An adjustable, integrated pump provides insufflation and/or water irrigation without the need for additional equipment.
A simple adaptor is available for direct connection to standard light guide cables for use with KARL STORZ fiberscopes and rigid telescopes.
AIDA® compact NEO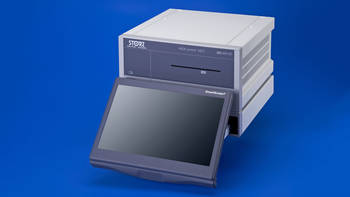 KARL STORZ AIDA® compact NEO is a FULL HD data archiving system compatible with all KARL STORZ camera systems. Still images, video sequences and spoken comments are reliably stored on DVD, USB stick, external/internal hard drives, or on a central storage system through DICOM/HL7 standard interfaces.
Patient data can easily be entered using the on-screen keyboard or a conventional keyboard. Recorded still images and videos can be viewed, edited and deleted on the screen before final storage.
The picture-in-picture function displays captured images while continuing to view the live image during surgery. The system also facilitates printing of images immediately after recording.
C-CAM®
C-CAM® is our simplest and most affordable video imaging solution, making endoscopic examinations fast, easy and financially feasible for any practice. It's compact, lightweight design is ideal for small spaces, while the plug and play feature makes it convenient for use in multiple exam rooms – and it's ready for use in only seconds!
C-CAM® is ideally suited for video otoscopic examinations in both awake patients during wellness check-ups or for more thorough examinations with sedated patients. The standard grasping mechanism fits all KARL STORZ rigid telescopes and fiberscopes, making it suitable for various other applications in dogs, cats and small exotic animals.
Images are displayed on an independent monitor connected by way of the C-HUB® or by direct connection to a C-MAC® monitor.
VITOM® 25
Exoscope for open surgery
The VITOM® 25 exoscope offers a revolutionary new way of displaying open surgical procedures in an ergonomic and high quality manner. Unlike a traditional endoscope, the VITOM® 25 is an "exoscope" which is placed at a distance of 25 to 75 cm from the surgical site, held securely in place by a holding device, giving the surgeon ample workspace.
The magnified image produced by the VITOM® 25 is viewed on a video monitor. This enables the surgeon and support staff to work together comfortably, significantly reducing surgeon fatigue, while the magnification of structures improves surgical precision and accuracy of diagnosis.