Rectoscopy and proctoscopy are established methods for diagnosing and treating rectal disease. The combination with video endoscopic technologies permits extraordinarily good visualization as well as clear documentation of findings and extends the range of indications to complex minimally invasive procedures such as transanal rectal surgery.
For these indications, KARL STORZ offers a wide range of products to hospitals and offices, ranging from instruments for rectal biopsies and polyp removal, optical forceps, and instruments for treating hemorrhoids to video endoscopic instruments for transanal endoscopic operation (TEO) and video-assisted anal fistula treatment (VAAFT).
"This webpage content is intended for Healthcare Professional only, not for general public"

Please visit www.karlstorz.com for more information.
KARL STORZ SILVER SCOPE®
TROIDL SILVER SCOPE® Flexible Rectoscope
The flexible TROIDL SILVER SCOPE® rectoscope combines the fundamental advantages of flexible endoscopy with the application possibilities of rectoscopy.
Special Features:
Working length of 40 cm ensures easy handling
Up to 210° inversion improves visualization and, consequently, diagnostic and therapeutic options thanks to forward and retrograde viewing
Field of application especially suited for surgical conditions and procedures in the rectal area
Fatigue-free work thanks to ergonomically shaped control unit
Possibility to combine rigid and flexible endoscopy thanks to modular IMAGE1 S camera platform
D-PORT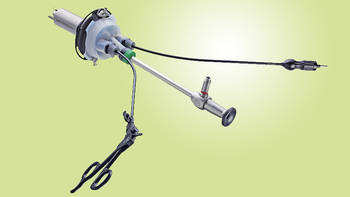 The new reusable D-PORT was designed and optimized for transanal surgery. It is also possible to perform transanal total mesorectal excision (taTME) with this platform.
Special Features:
Simultaneous CO2 insufflation and smoke / gas evacuation possible
Great freedom of movement due to flexible sealing cap
Small outer diameter of 30 mm facilitates insertion in the anal canal
Free choice of telescopes (5 mm or 10 mm)
Reusable and thus cost-effective
TEO® Platform with Flexible Working Attachment and High-Flow Adaptor – B-PORT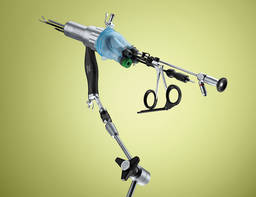 TEO® (Transanal Endoscopic Operations) combines the minimal invasiveness of an intervention via a natural orifice (NOTES) with the precision of resection under visual control. A wide-lumen rectoscope enables precise guidance of operating instruments under endoscopic control. In cooperation with Prof. Luigi Boni, Varese, Italy, it was possible to optimize the TEO® platform for taTME (Transanal Total Mesorectal Excision).
Special Features: 
Great freedom of movement thanks to flexible working attachment
Instruments up to size 15 mm can be used
The high-flow adaptor enables a fast and stable pneumorectum as well as effective smoke evacuation
Straight distal end simplifies the placement of an endoscopic purse-string suture
Also suitable for taTME
VAAFT Set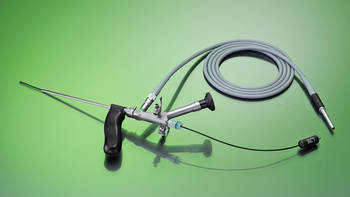 Video-Assisted Anal Fistula Treatment
The VAAFT technique is suitable for the surgical treatment of complex anal fistulas and recurrences as well as the endoscopic treatment of pilonidal sinuses. Direct visual control is thereby the main characteristic of this new surgical method. The VAAFT technique allows a significant reduction in surgical trauma.
Special Features:
Exact localization of the internal fistula opening under visual control
Complete elimination of the fistula from the inside
Minimal postoperative trauma
Good time and cost-saving potential
Fully autoclavable
Also suited for the treatment of pilonidal sinuses
Proctoscopes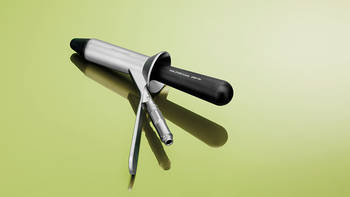 KARL STORZ offers a wide range of proctoscopes in various sizes for rigid proctoscopy.
Special Features:
Plastic obturator prevents possible tilting in the proctoscope tube
Completely reusable, durable
With the proper working attachment can also be utilized for video-assisted proctoscopy and documentation
Rectoscopes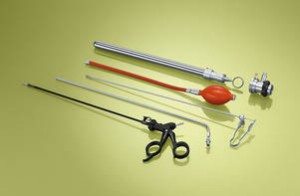 KARL STORZ offers a wide range of rectoscopes in various sizes for rigid rectoscopy.
Special Features:
Completely reusable, durable
Fiber optic light carrier with fiber optic light cable connector for optimal illumination
With the proper working attachment can also be utilized for video-assisted rectoscopy and documentation
Documentation in Proctology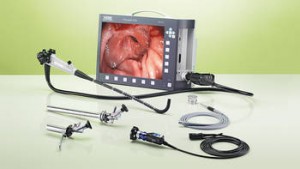 The mobile all-in-one solution TELE PACK X GI provides clear patient information for procto- and/or rectoscopic examinations. The flexible TROIDL resectoscope as well as the rigid systems PROCTOVISION® and RECTOVISION® allow the visualization and documentation of all  examination and/or therapy steps.
Special Features:
The portable all-in-one solution combines a monitor, video processor, LED light source, documentation unit and insufflation pump in one unit
Universal use in doctors' offices, emergency rooms and intensive care units
Flexible and rigid endoscopes can be easily connected with suitable adaptors
As well as presenting clear patient information, the documentation can be an effective aid for proctological training
The integrated network function allows straightforward export of patient images and videos to the hospital or practice network