Joints connect bones to each other and provide the body with agility and stability. Obesity, misalignment, physical inactivity as well as sports injuries can lead to joint problems and restricted movement.
Many minimally invasive techniques can now be performed in joint surgery thanks to modern arthroscopy. The product range from KARL STORZ covers endoscopic instrument sets and implants for treatment of the shoulder, elbow, hip and knee joints as well as the wrist, interphalangeal and ankle joints.
In cooperation with renowned physicians, KARL STORZ was able to develop innovative products and techniques for, among others, meniscal refixation, cruciate ligament reconstruction, reconstruction of shoulder instability as well as hip arthroscopy.
Furthermore, KARL STORZ offers an appropriate portfolio of implants for arthroscopic reconstructive procedures. This segment includes both titanium and bioresorbable implants such as interference screws, suture anchors and fixation buttons.
"This webpage content is intended for Healthcare Professional only, not for general public"

Please visit www.karlstorz.com for more information.
Diamond Standard: HOPKINS® Telescopes and Sheaths for Optimal Vision
KARL STORZ HOPKINS® telescopes are considered to be the best arthroscopes in the industry. The diverse product range covers all arthroscopic interventions while the unique rod lens system ensures excellent image quality with optimal brightness, contrast and detail properties.
The product range includes all well-established angles of view in arthroscopy:
• 0° • 30° • 70°
Arthroscopes with diameters ranging from 1 mm to 4 mm leave nothing to be desired. A selection of sheaths with various locking mechanisms, which are co-ordinated with HOPKINS® telescopes, ensures the safe locking of the telescope in the sheath.
EndoCAMeleon® with Variable Direction of View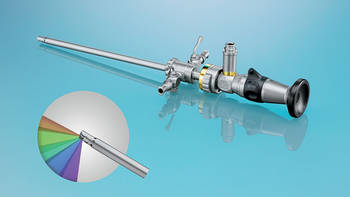 A Revolution in Imaging
ENDOCAMELEON® ARTHRO is a multidirectional arthroscope that combines the existing HOPKINS® technology with a variable direction of view. This guarantees optimal image quality with ideal visualization. The desired direction of view can be adjusted between 15° and 90° during surgery.
Special Features:
HOPKINS® telescope with unique rod lens system for optimal brightness and contrast
Easy-to-use adjusting knob selects the desired direction of view (15° to 90°)
Better visualization of difficult-to-reach anatomical structures
Time-saving as portal changeover is reduced
VITOM® 3D – 3D Visualization for Hand and Plastic Surgery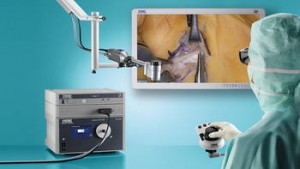 The VITOM® 3D system provides many surgical disciplines with a revolutionary solution for the visualization of microsurgical and open surgical interventions. Application possibilities are similar to that of the operating microscope. The most important functions are controlled via the IMAGE1 PILOT which is mounted to the OR table in close proximity to the surgeon.
Smaller, lighter and more compact than an operating microscope
Lower acquisition costs and creates synergistic effects with endoscopy by using the same video tower – thus combining the benefits of endoscopy and microscopy
Ergonomic work – the user is not confined to the eyepiece
Improved workflow – the OR team can view the procedure in the same image quality as the surgeon
ENDOMAT® SELECT – Meets Your Exact Requirements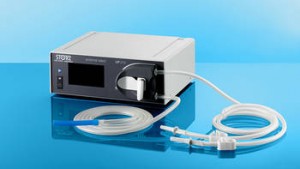 ENDOMAT® SELECT for arthroscopy is a roller pump that regulates the irrigation of fluids according to the latest standards. ENDOMAT® SELECT for arthroscopy communicates effectively with the KARL STORZ shaver unit UNIDRIVE® S III Arthro. It also regulates the pressure and the flow rate to provide optimal imaging while maintaining joint distension. An optional feature is the BOOST mode that can be activated at any time. This provides temporary increase in pressure and irrigation inside the joint in order to stop bleeding.
ENDOMAT® SELECT has been designed as an interdisciplinary pump. Depending on individual preferences, the pump can be equipped with various software packages so that the unit can be used for either individual or multiple disciplines.
Benefits at a glance:
User-friendly interface and simple handling thanks to tubing set for single hand control
Rapid communication with the shaver unit
Safe use thanks to tubing set recognition
Seamless integration into existing systems
Optional software allows further applications to be added at any time
KLT – Knee Laxity Tester
Precise Measurement of the Stability of the Knee Joint
The Knee Laxity Tester (KLT) was developed to allow fast, straightforward, and reproducible instrumented stability testing. It meets the requirements for quantifying the drawer movement. The tester offers the following advantages:
Rapid and easy calibration (zero calibration)
Exact and fast measurement process
High accuracy (± 0.1 mm)
Four important clinical tests can be performed with the KLT:
1. Lachman test
2. Spontaneous posterior drawer test in 90° flexion
3. Fixed posterior drawer test
4. Anterior drawer test in 90° Flexion
Techniques for Cruciate Ligament Reconstruction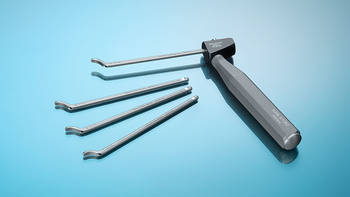 A Portfolio for all Demands
Products and techniques that set a new standard in established arthroscopic knee surgery were successfully developed in collaboration with well-known orthopedic specialists and trauma surgeons.
The versatile product range for anatomically correct reconstruction of the cruciate ligaments includes instruments for both the anterior and posterior cruciate ligaments.
Special Features:
Graft harvesting and preparation: Offers optimal harvesting and preparation of all common grafts
Tunnel placement: A large selection of aimers, drills and dilators ensures efficient tunnel placement
Tibial and femoral fixation systems: Interference screws manufactured from ultramodern materials as well as fixation buttons made of titanium for femoral and tibial anchorage ensure excellent long-term results and patient satisfaction
Unique: Minimally Invasive Quadriceps Tendon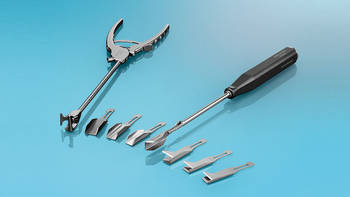 For Reconstruction of the Cruciate Ligaments and MPFL
The quadriceps tendon is used in cruciate ligament revision surgery and, more and more frequently, for the primary reconstruction of the anterior (ACL) and posterior (PCL) cruciate ligaments. The quadriceps tendon has also emerged as an ideal graft source for the reconstruction of the medial patellofemoral ligament (MPFL).
A special tendon harvesting system was designed to provide fast, safe and atraumatic tendon harvesting, featuring the following properties:
Reproducible technique
Easy and safe subcutaneous tendon harvesting
Defined harvesting depth
Attractive cosmetic results
The instrument set also enables quadriceps tendon harvesting for the anatomical reconstruction of the medial patellofemoral ligament (MPFL). One of the benefits of this technique is that the patella remains free of implant fixations and drill tunnels.
Rectangular Bone Tunnels for ACL Reconstruction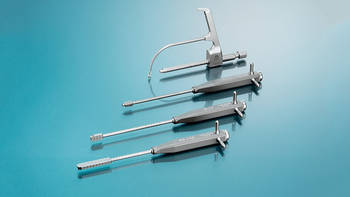 Tunnel Placement for Enhanced Anatomic Footprint Coverage
The actual anatomy of the cruciate ligament insertion site gave rise to the idea of developing a system that supplements the quadriceps tendon-harvesting set and that enables the creation of rectangular bone canals for the femur and tibia.
Special Features:
Optimized for using the quadriceps tendon
Rectangular rasps and dilators for creating anatomical bone tunnels
Tibial aimer for the creation of rectangular bone tunnels
SILCUT®1 Punches for Precise Interventions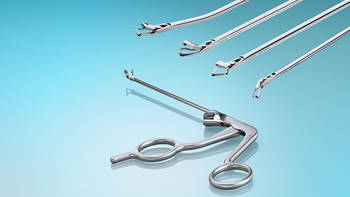 Unique Hygiene Concept for Easy and Efficient Instrument Cleaning
The hand instruments in the SILCUT®1 product line set new standards in arthroscopic resection. Furthermore, KARL STORZ CLEANFIT® offers a cleaning concept that is yet another groundbreaking feature for hand instruments in arthroscopy.
SILCUT®1 instruments stand out thanks to their precision, sharpness and perfect ergonomic design. The product range includes punches for large and small joints. In addition, the grasping forceps from the SILGRASP®1 Line supplement this portfolio.
All demands of arthroscopic precision instruments kept in mind during the design and construction of the SILCUT®1 range:
Utmost precision thanks to an extremely flat profile
Optimal cleaning thanks to integrated LUER-connector
Optimized functional and ergonomic design
Shoulder Holder for the Lateral Position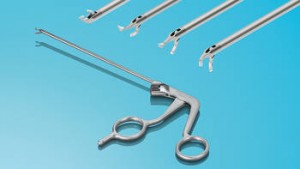 Effective Suture Management in Shoulder Arthroscopy
The new suture forceps expands the familiar SHOULDER PRO® line to offer the surgeon a wide range of instruments for successful and targeted soft tissue perforation. This results in optimized suture management in reconstructive surgery for the rotator cuff and shoulder instability.
TARPUN SHOULDER PRO® suture forceps
Easy and atraumatic penetration of soft tissue with the sharp and extremely slender upward-opening jaws
Simplified suture grasping thanks to hook integrated in the jaw
FETCHER SHOULDER PRO® suture forceps
Efficient grasping of the suture anchor, without twisting the suture forceps, thanks to downward-opening jaws and large aperture angle
Best possible and atraumatic tissue handling thanks to the extremely slender design of the curved jaw with an upward pointing instrument tip
Available with straight jaws as well as jaws curved to the left and right
SilGrasp® PRO Suture Graspers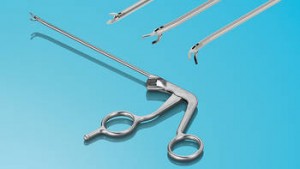 Effective Suture Management in Shoulder Arthroscopy
The new suture graspers expand the product portfolio for shoulder arthroscopy to enable successful suture ­management in reconstructive surgery for the rotator cuff and shoulder instability.
SILGRASP® PRO suture graspers
Enables the grasping of suture material and soft tissue thanks to the slender, serrated and atraumatic jaws
Reliable suture transportation thanks to special jaw design that prevents the suture from slipping out, even under strong traction
Also suitable for knee arthroscopy
SILGRASP® PRO curved suture graspers
Easier to grasp sutures that run parallel to the instrument thanks to jaws curved to the left or right
Simplified suture grasping due to jaws with large aperture angle
New Basic Instruments for Wrist Arthroscopy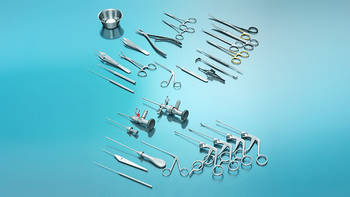 Laying the Foundations for Precise and Efficient Work in Hand Surgery
As an anatomically small structure, the hand places great demands on instrument precision in wrist arthroscopy.
The arthroscopy and accessory sets from KARL STORZ are optimized to the demands of wrist arthroscopy.
Special Features:
Brilliant visualization with KARL STORZ HOPKINS® arthroscopes, even in tight joint spaces
Successful work on structures thanks to the extremely flat jaws of the SILCUT®1 line
The arthroscopy set is supplemented by an accessory set with standard instruments that are essential for precise wrist arthroscopy