The incidence of spinal disorders has undergone a drastic increase in recent years and not only in industrial countries. "Back pain" has reached epidemic proportions and is causing major economic loss worldwide. Should surgery be necessary, access and operation sites must be kept as small as possible as the vertebral column constitutes a complex system. To function correctly, the spine relies on the balanced interplay of individual structures. Minimally invasive operative techniques with corresponding visualization ideally fulfill these requirements and optimally combine low traumatization with therapeutic efficiency.
KARL STORZ has, therefore, developed a wide range of products for spine surgery.
The product range comprises of dedicated, access-optimized telescopes and instruments for fully endoscopic procedures such as percutaneous endoscopic lumbar discectomy, percutaneous endoscopic cervical discectomy and thoracoscopy. Furthermore, KARL STORZ offers instrument sets for endoscopically assisted, microsurgical and open procedures in spinal surgery. A high-speed motor system with a wide range of drill handpieces complements the portfolio.
"This webpage content is intended for Healthcare Professional only, not for general public"

Please visit www.karlstorz.com for more information.
SpineTIP
System Optimized for Approaches to Percutaneous Endoscopic Lumbar Decompression
Special Features:
One system – three sets optimized for standard approaches: Transforaminal, interlaminar and posterolateral
Brilliant image quality ensures clear visibility during surgery
Reusable bipolar electrodes and burrs for effective bone and tissue resection
Unique and color-coded instruments for safe and controlled application
3D Endoscopy for Thoracic Spine Surgery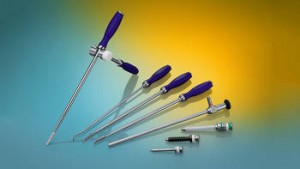 KARL STORZ sets new standards for 3D endoscopy with brilliant three-dimensional visualization. As part of the IMAGE1 S modular camera platform, existing systems can easily be adapted to include 3D.
Special Features:
3D system with video endoscopes and VITOM® 3D for both endoscopic and open thoracic spine surgery
Easy switchover from 3D to 2D
Instruments specially developed for thoracic interventions featuring a unique design and ergonomic handles
Less invasiveness as only 3 to 4 trocar ports are required, thus eliminating the need for a large abdominal incision
À-la-carte concept for efficient compilation of customized instrument set
VITOM® 3D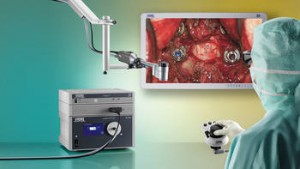 3D Visualization for Open Spine Surgery
The VITOM® 3D system provides many surgical disciplines with a revolutionary solution for the visualization of microsurgical and open surgical interventions. Application possibilities are similar to that of the operating microscope. The most important functions are controlled via the IMAGE1 PILOT which is mounted to the OR table in close proximity to the surgeon.
Smaller, lighter and more compact than an operating microscope
Lower acquisition costs and creates synergistic effects with endoscopy by using the same video tower – thus combining the benefits of endoscopy and microscopy
Ergonomic work – the user is not confined to the eyepiece
Improved workflow – the OR team can view the procedure in the same image quality as the surgeon
UNIDRIVE® S III NEURO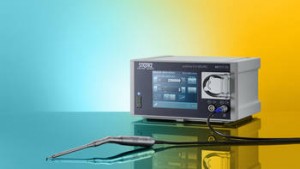 Multifunctional High-Speed Motor System for all Indications in Neurosurgery and Spine Surgery
Special Features:
The ergonomic DRILLCUT-X® II spine handpiece enables precise and powerful ablation of bone material during percutaneous full endoscopic surgery
High-speed handpieces feature a quiet drilling performance, even at speeds up to 100,000 rpm
Particularly long, malleable high-speed handpieces can be used for specific surgical techniques (e.g. tubular dilation systems)
The motor control unit features intuitive touch screen control and supports handpiece changeover via automatic motor recognition
VITOM® II Spine 90°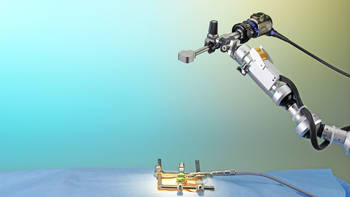 Unique System for Open Spine Surgery
Special Features:
90° arrangement of VITOM® II for greater flexibility in a wide range of applications
Great depth of field, optimal magnification and excellent color rendition
Integrated illuminator provides considerably more light
Ergonomic work in a correct posture with a clear view of the monitor
Combined application with spine retractors, retractors and tubular trocars such as the EASYGO!® II generation possible
EasyGO!® II. Generation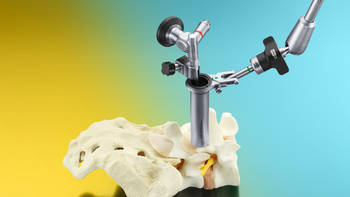 Tubular System for Endoscopic Spine Surgery
Special Features:
A wide range of applications for treating degenerative spine diseases at the lumbar and cervical levels
The second, completely reworked generation provides significantly more working space and application possibilities
Specially adapted telescopes and the high-resolution KARL STORZ FULL HD technology enable clear and distinct differentiation of anatomic structures
Sequential dilation and the use of smaller trocar sizes can reduce muscle trauma and skin incision length
Specially developed malleable drill handpieces for use with all trocar lengths
Instruments for Thoracic Spine Surgery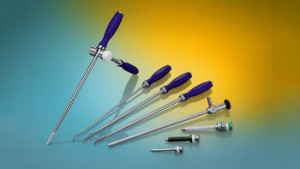 Special Features:
Specially developed instruments with ergonomic handles
High-resolution KARL STORZ FULL HD technology enables clear and distinct differentiation of anatomic structures
Less invasiveness due to 3 to 4 trocar ports instead of a large abdominal incision
À-la-carte concept for efficient compilation of customized instrument set