In small animal endoscopy, KARL STORZ offers a large selection of products for various diagnostic, surgical, and orthopedic indications as well as for endoscopy in avian and exotic animal clinics.

Please visit www.karlstorz.com for more information.
Video Otoscope for Small Animals
Improve your diagnosis of ear disease: treat the cause, not the symptoms
Increases client satisfaction and compliance while increasing practice revenue
Provides a precise means of assessment of treatment and follow-up, documentation of findings and client education
Video otoscopic examinations during wellness check-ups are fast, easy and financially feasible for any practice
Large working channel facilitates the use of instruments for taking biopsies, removing foreign bodies, polypectomy, as well as flushing and suctioning for thorough ear cleaning
For use with all KARL STORZ video systems, including TELE PACK VET X LED, C-MAC® monitor and SMART SCOPE
New 6 mm lightweight trocars for small animals
Ribbed cannula reduces slippage out of the incision in the body wall
For use with 5 mm instruments
Autoclavable
For use in dogs, cats and small exotic animals
Available with either a blunt or sharp obturator
Designed in cooperation with Professor David Twedt, Colorado State University, Fort Collins, Colorado, USA
New Basic Small Animal Arthroscopy Instrument Set
As recommended by Dr. Brian Beale
Basic set includes a range of instruments for performing the most common arthroscopic procedures in dogs and cats
New designs and small dimensions enable instruments to fit into previously unreachable spaces
Strong grasping power
Developed in cooperation with Brian Beale, DVM, DACVS, Gulf Coast Veterinary Specialists, Texas, USA
New Small Diameter Arthroscopy Knives
For ease of use in tight spaces
For treating meniscal injuries, performing tenodesis and cutting soft tissue attachments to bony fragments
IMAGE1 S HX FULL HD Camera Head
Smaller.Brighter.Brilliant Image.
FULL HD image resolution (1920 x 1080p, 16 x9 aspect ratio) delivers brilliant, true color images
Cost effective FULL HD solution
Ergonomic and lightweight (only 130 grams)
Part of the IMAGE1 S modular camera platform
TELE PACK VET X LED
The complete mobile endoscopic video and documentation system
Compatible with all types of endoscopes, including videoendoscopes, rigid telescopes, fiberscopes and exoscopes
Integrates every component necessary for endoscopic imaging: camera, LED light source, monitor, insufflation pump and image capture
Compact and lightweight, TELE PACK VET X LED is the ultimate solution for small spaces as well as easy transport and quick set-up for use in multiple examination rooms
High performance LED light source assures bright and uniform illumination, with up to 30,000 hours of lamp life
Image capture system stores still images and videos onto USB drives or SD memory card
VETPUMP® 2 Suction and Irrigation Device
Makes cleaning ears easier than ever before
Facilitates thorough ear cleaning under sedation
Separate regulation of irrigation pressure ensures precision and safety
Versatile handpiece attaches to catheters, irrigation tubes or directly to endoscope or otoscope channel
Bottles, tubing and handle are fully autoclavable
VETPUMP® 2 can also be used for lavage and suction during gastroscopy and laparoscopy
C-MAC® Video System
Simple, portable and easy to use
The C-MAC® monitor works with either a standard electrical power cord or with a battery for ease of use in the field or the clinic
7″ wide view monitor with 1280 x 800 pixel resolution
Documentation of still images (JPEG) and videos (MPEG4) on SD or USB flash drive
Images and videos can be played back on either the integrated monitor, or on an external monitor
Compact, lightweight design is ideal for small spaces
SMART SCOPE
Document endoscopic images and videos directly on your smartphone
Compatible with standard KARL STORZ eyepieces and various smartphones
Easily transfer data to your clinic's computer system
Quick and easy to use
Convenient for use in the examination room or in the field
Gastroscopy
Upper and lower gastrointestinal endoscopy is perhaps the most widely indicated application of endoscopy in small animals. A partial list of indications includes regurgitation, dysphagia, salivation, nausea, vomiting, hematemesis, melena, anorexia, diarrhea, weight loss, hematochezia, fecal mucus and tenesmus.
Our new SILVER SCOPE® Veterinary Videoendoscopes with extended lengths, fine diameters and large biopsy channels are extremely versatile for applications in veterinary medicine.
Unifying state-of-the art technology, ergonomics and durability, our SILVER SCOPE® videoendoscopes consistently deliver images with unsurpassed clarity, brightness and depth of field. The new ergonomic design ensures an easy, comfortable grip to reduce fatigue. SILVER SCOPE® videoendoscopes incorporate the latest design innovations to reduce scope damage, minimizing downtime and reducing repair costs.
SILVER SCOPE® videoendoscopes utilize the same camera and light source as KARL STORZ rigid telescopes, flexible fiberscopes and exoscopes; an efficient and economical solution to all your endoscopy needs.
Multi-Purpose Rigid™ Telescope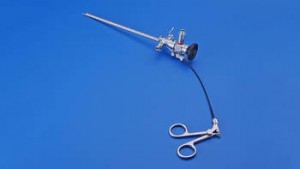 Endoscopic technology today allows direct optically controlled access to numerous internal organs without surgical intervention.
The approaches are either through natural bodily openings or can be created by means of small incisions. With the HOPKINS® Telescope, a Multi-Purpose Rigid™ Telescope is available which, supplemented by the instrument set presented here, allows a full range of endoscopic applications.
Otoscopy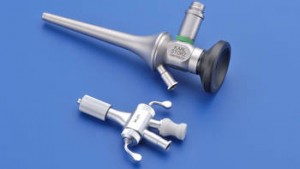 Diagnostic otoscopy in veterinary medicine is one of the most important applications of endoscopes. Disorders of the external ear are common in dogs; the easy access an superior visualization afforded by this technique make otoendoscopy an ideal method of examination.
A rigid endoscope allows examination of the mitddle ear as well. KARL STORZ now offers a new veterinary otoscopy set consisting of an otoscope with 0° forward-view optic and a 3-way stopcock.
The shape and adapted length make it possible to carry out thorough examinations even in breeds of dogs with long aural passages. The instrument can also be used for treatment: flushing the ear canal, suction, removal of foreign bodies, myringotomy, etc.
Video Otoscopy provides a precise means of assessment of treatment and follow-up, and documentation of findings. The otoscopy set can also be used for oral and dental examination. For anesthetized patients, the Multi-Purpose Rigid Telescope can also be used.
For further information, click on "Multi-Purpose Rigid Telescope".
Rhinoscopy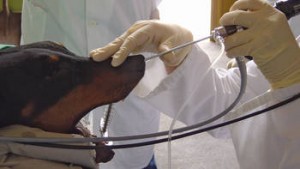 Rhinoscopy may be indicated in dogs and cats with nasal discharge, nasal obstruction, chronic sneezing, epistaxis, facial distortion, nasal pain, acute severe sneezing, reverse sneezing and abnormal radiographs. Both rigid and flexible endoscopes may be used for rhinoscopy.
Rigid lens systems, such as the Multi-Purpose Rigid Telescope offer the best optics, while flexible endoscopes with tip deflection permit post-rhinoscopy (visualization of the posterior nasal cavity by passing the insertion tube orally into the nasopharynx).
For rigid telescopes, we offer sheaths with working channels and flexible instruments for taking biopsies and removing foreign bodies. All sheaths have stopcocks for flushing or suction.
For the complete list of the instruments see "Multi-Purpose Rigid™ Telescope".
Bronchoscopy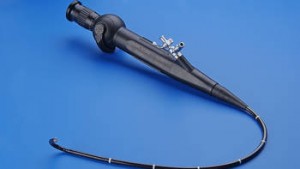 Bronchoscopy and tracheoscopy may be indicated in certain cases of bronchitis, coughing, pulmonary neoplasia, tracheal collapse, stridor and other abnormal breathing patterns. Both rigid and flexible endoscopes may be used.
Flexible endoscopes typically used for tracheobronchoscopy are available with 5.2 mm, 3.7 mm and 3.0 mm outer diameter.
Rigid bronchoscopes are available with a diameter of 2.9 mm and working length of 36 cm for cats and small dogs and with a diameter of 5.5 mm and working length of 54 cm for larger dogs.
Arthroscopy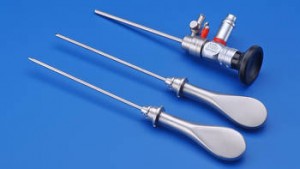 Arthroscopy is rapidly gaining popularity among veterinary surgeons for both diagnosis and surgery in dogs with chronic lamness, joint pain, joint instability, swelling, crepitus and abnormal radiographic findings, including OCD, DJD and fragmented corinoids.
Telescopes ranging from 1.9 mm to 2.7 mm diameter are used in small animal arthroscopy. The most popular telescope, due to its versatility, is the 2.7 mm Multi-Purpose Rigid™ Telescope.
Laparoscopy, Thoracoscopy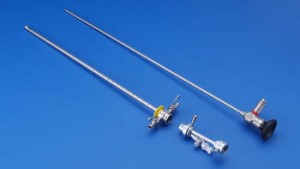 The most common indication for laparoscopy in the dog today is biopsy of the liver, kidney, pancreas or masses. Other diagnostic applications include evaluation of abdominal trauma, response to therapy, or abnormal radiographic findings. Laparoscopic surgery is also being performed currently, including ovariectomy, gastropexy, hernia repair and others.
The most common small animal laparoscope has a diameter of 5 mm. However, almost any size rigid telescope may be used for small animal laparoscopy, including the 2.7 mm Multi-Purpose Rigid™ Telescope and standard human laparoscopes, which are 10 mm in diameter. The same instrumentation can be used for thoracoscopy. Indications may include pleural effusion, pericardial effusion, mediastinal disease, abnormal radiographic findings, biopsies and others.
Cystoscopy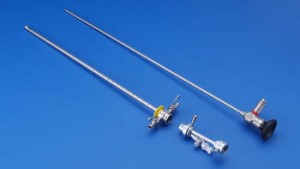 Urethrocystoscopy is indicated in a large number of small animal patients, including those presenting with chronic cystitis, pollakuria, hematuria, stranguria, incontinence, trauma, calculi and abnormal radiographs. Performing urethrocystoscopy in the variety of patients we see in small animal practice requires more than one endoscope. The most popular small animal cystoscope is the Multi-Purpose Rigid Telescope which is ideal for female dogs ranging from approximately 5-45 lbs .
For further Information click on Multi-Purpose Rigid Telescope.
Use of this telescope for cystoscopy in males requires either a perineal urethroscopy or the transabdominal approach. The transabdominal approach may also be indicated in females where urethral diameter is too small. Smaller rigid telescopes are available with HOPKINS® optics, diameter 1.9 mm.
The ideal endoscope for transurethral cystoscopy in male dogs is the Specialty Fiberscope with 3.0 mm diameter and extended length of 1 m. For larger female dogs, an extended length telescope with sheath diameter of 17 Fr. and 29 cm working length is used.