The body size and other anatomic peculiarities of large animals require a highly specialized product range. KARL STORZ has responded with many specifically developed instruments.

Please visit www.karlstorz.com for more information.
EquiVeo™ Videoendoscope
All-in-one, mobile system for respiratory endoscopy in horses
With a slender diameter of just 6 mm and extended length of 150 cm, EQUIVEO™ offers precise endoscopic visual control for examination of all areas of the upper respiratory tract in horses
4-way tip deflection and responsiveness of the insertion tube assure precise and reliable maneuverability
Large, high-resolution 5″ true color LCD color monitor with impact protection
Works with either a standard electrical power cord or rechargeable batteries for ease of use in the clinic or in the field
Documentation of still images (JPEG) and videos (ASF) is fully integrated into the system
The NEW KARL STORZ Equine Dental Scope
New dimensions are more ergonomic and deliver easier handling
The use of an endoscope during equine dental examinations, cleaning, floating, extractions or other procedures improves visualization and accuracy and allows for documentation of findings.
Robust construction protects telescope from damage
Completely soakable
Light and irrigation connectors are rotatable
The lightweight and easy to use C-MAC® monitor works with either a standard electrical power cord or with a battery for ease of use in the field or the clinic
The TELE PACK VET X LED is the ultimate mobile endoscopic video system, compatible with all types of endoscopes, including videoendoscopes, rigid telescopes, fiberscopes and exoscopes
Equine Laryngeal Forceps
Used transnasally alongside KARL STORZ flexible videoendoscopes to perform laryngeal laser surgery
Curved shaft is ergonomic and allows for smooth passage through the nasal cavity to the larynx
Ratcheted handle maintains a secure grasp on the larynx for the full duration of the procedure
Double action jaws
Large 4 mm jaw width
HAMOU® ENDOMAT® irrigation and suction device for veterinary arthroscopy
A powerful fluid management solution for arthroscopic procedures in large and small animals
Simple, safe and reliable
An easy to use interface facilitates selection of pressure and flow rates, which can be adjusted at any time during the procedure
The device stops pumping when the preselected pressure is reached, preventing overdistension and unnecessary noise during use
If pressure drops, fluid is immediately added at the preset flow rate until the selected pressure is restored
TELE PACK VET X LED
The complete mobile endoscopic video and documentation system
Compatible with all types of endoscopes, including videoendoscopes, rigid telescopes, fiberscopes and exoscopes
Integrates every component necessary for endoscopic imaging: camera, LED light source, monitor, insufflation pump and image capture
Compact and lightweight, TELE PACK VET X LED is the ultimate solution for small spaces as well as easy transport and quick set-up for use in multiple examination rooms
High performance LED light source assures bright and uniform illumination, with up to 30,000 hours of lamp life
Image capture system stores still images and videos onto USB drives or SD memory card
Large Animal Videoendoscopes
High resolution CCD chip delivers sharp, true color images
Ideal for numerous large animal applications, including: Gastroscopy, Esophagoscopy, Tracheoscopy, Hysteroscopy, Urethrocystoscopy, Rhinoscopy, Pharyngoscopy and Laryngoscopy
Large working channel facilitates bigger biopsies to ensure a more accurate diagnosis
Uniform image brightness, even under difficult lighting conditions
Utilizes the same camera processor and light source as KARL STORZ rigid endoscopes and fiberscopes, which translates into major saving for the busy vet practice wanting to offer a variety of endoscopy services
For use in the field, all KARL STORZ large animal videoendoscopes are compatible with TELE PACK VET X LED mobile endoscopic video imaging system
Arthroscopy
Arthroscopy is indispensable in the field of equine orthopedics. With a relatively simple instrument set it is possible to perform diagnostic procedures, which yields information about the location and extent of articular trauma as well as the staging of degenerative joint diseases. Small cartilage defects, synovial hypertrophy, and osteochondrosis can be detected and treated in a single procedure..
Further Information:
Arthroscopy reduces operative time and trauma, enabling the patient to return to normal activity much sooner than with traditional arthrotomy. By distending the joint with fluid or gas, all areas of the articular cartilage can be accessed and debrided under endoscopic visualization.
Gastroscopy, Bronchoscopy, Hysteroscopy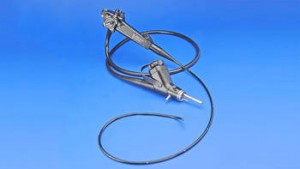 In large animal medicine, flexible endoscopes are a standard component of diagnostic equipment. They are particularly useful for differentiating among disease processes in the upper respiratory tract and gastrointestinal tract.
KARL STORZ´s new video endoscope range sets new standards for image quality. Utilization of the very latest in digital processing technology, high resolution CCD chips, and an enhanced optical system results in endoscopes that produce images with unique clarity.
Further Information:
KARL STORZ recommends videoendoscopes with 1.80 m and 2.50 m length for bronchoscopy and 3 m and 3.25 m length for gastroscopy in horses.
The processor of the new Videoendoscope generation is compatible with all rigid and flexibles KARL STORZ optical systems.
Laparoscopy, Thoracoscopy
Laparoscopy has become a desirable alternative to many open abdominal surgical procedures in the horse. Laparoscopic procedures have also been recently developed for cattle, perhaps most significantly for the surgical correction of abomasal displacement.
Depending upon the indication, equine laparoscopy can be performed on patients while standing or in dorsal recumbency. CO2 insufflation is required to distend the abdomen in order to visualize organs. Indications for laparoscopy in the horse include visual examination, organ biopsy, acute or chronic colic, cryptorchidectomy, castration, inguinal hernia, ovariectomy, neoplasia and embryo transfer. KARL STORZ has developed specialized instrumentation for these procedures. The basic set is featured in our ENDOWORLD® VET 22.
Equine thoracoscopy is often performed in the standing horse with pleuropneumonia. In a single procedure, biopsies can be taken and adhesions divided. Thoracoscopy can also be performed in lateral recumbency. Another common indication for thoracoscopy in the horse is thoracic neoplasia. The telescopes and instruments used in thoracoscopy are the same as those used for laparoscopy.
Theloresectoscopy
The SEEH/HOSPES theloresectoscopy set is used to examine and resect the bovine teat, either via the streak canal or with a lateral, single puncture approach. With either approach, visual examination is easily performed, as well as resection of tissue that occludes the teat canal.
Further Information:
The simple, one-handed system consists of a telescope, sheath and resection electrode. Without the aid of an assistant, the clinician can easily maneuver the endoscope so that the operating field is under constant visual control. The KARL STORZ theloresectoscopy set combines the advantages of minimally invasive diagnostics and previously established techniques of electrosurgical resection.
Embryo Transfer
KARL STORZ instruments are available for embryo transfer in cattle, horses, sheep and goats. The embryo transfer instrument set makes it possible to place the embryo precisely in the uterine horn under visual control.
Further Information:
In the standing horse, the instrument pictured below is used to implant the embryo, along with the standard equine laparoscopy instrumentation.
Laparoscopic abomasal repositioning
The increasing number of left abomasal displacements in high-producing cows requires the use of new technologies. Endoscopic techniques reduce treatment times, are more gentle on patients, and hence reduce losses for owners. Laparoscopy additionally facilitates correct toggle placement and combines the advantages of laparotomy (repositioning and fixation under view) with those of the roll-and-suture technique and percutaneous fixation (quick and minimally invasive).
With the animal in a standing position, the laparoscope is placed in the left flank. This positioning ensures a clear view of the displaced abomasum. Under endoscopic guidance, the trocar for toggle placement is inserted into the abomasum. The toggle is fixed in place in the abomasum through the trocar. The procedure can be finished in dorsal recumbency with caudolateral trocar placement, or the instrument for toggle placement can be used with the animal in a standing position. The laparoscope is placed caudolaterally to the sternum, and through a second trocar located caudally to the first, the toggle suture is grasped using a grasping forceps and then tied there. The suture can be cut after 3-4 weeks.
The KARL STORZ abomasopexy set combines an excellent optical system with high quality instruments and toggle. The toggle features 2 suture holes with special rounding to prevent premature suture rupture in the abomasum.
VITOM® 25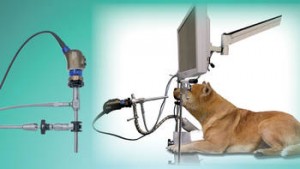 Exoscope for open surgery
The VITOM® 25 exoscope offers a revolutionary new way of displaying open surgical procedures in an ergonomic and high quality manner. Unlike a traditional endoscope, the VITOM® 25 is an "exoscope" which is placed at a distance of 25 to 75 cm from the surgical site, held securely in place by a holding device, giving the surgeon ample workspace.
The magnified image produced by the VITOM® 25 is viewed on a video monitor. This enables the surgeon and support staff to work together comfortably, significantly reducing surgeon fatigue, while the magnification of structures improves surgical precision and accuracy of diagnosis.
Further Information:
This system is ideal for teaching, as is allows for easy, magnified viewing of the surgery, which can also be transmitted to remote locations, without disruption of the procedure.
The ability to capture and archive images and videos of surgical procedures ensures that a detailed and accurate record of the diagnosis and treatment performed is recorded, while creating a valuable tool for training, education, re-examination at a later time, and sharing with clients and colleagues.
The VITOM® 25 works with any existing KARL STORZ video system.