Minimally invasive technologies are opening up new options in the field of neurosurgery, especially in the diagnosis and therapy of defects of the intracranial ventricles and the skull base. Endoscopes with different viewing angles allow a view of the anatomy of the brain, which is not possible with a microscope. The use of special endoscopes, with or without working channels, and dedicated micro instruments enable the surgeon to perform more advanced operative interventions.
A wide variety of interventions can be performed by an entirely endoscopic procedure, e.g., the removal of intraventricular cysts or tumors or the creation of the transnasal access to the pituitary gland and the skull base.
Another field of application is the so-called endoscopically assisted micro­neurosurgery which utilizes endoscopes to perform high-risk interventions in order to inspect areas that cannot be directly visualized and thus greatly enhances the safety of neurosurgical interventions.
KARL STORZ offers a wide range of instruments for intracranial interventions as well as for approaches to and procedures in the skull base area, complemented with a special pediatric portfolio. The scope of products is rounded off with a high-speed motor system with a multitude of drill, craniotomy and perforator handpieces.
"This webpage content is intended for Healthcare Professional only, not for general public"

Please visit www.karlstorz.com for more information.
Video Neuro-Endoscope for Intracranial Neurosurgery
Special Features:
Minimal outer diameter of 2.8 mm with integrated working channel of 1.2 mm
Continuously variable 270° deflection (up/down) for intuitive orientation and visualization of the entire ventricular system
Excellent image quality thanks to auto focus as well as integrated LED light source – optimal tissue differentiation, even in areas that are difficult to access
Video neuro-endoscope is easy to insert and navigate due to high torque stability – direct transmission of hand movements to the distal tip
Ergonomic work using only one hand thanks to lightweight handle and integrated LED light source
UNIDRIVE® S III NEURO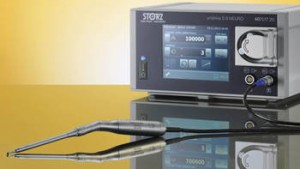 Highlights 2017 Neurosurgery – Quarter 1 (PDF | 1.1 MB)
UNIDRIVE® S III NEURO – Comprehensive Motor System for Neuro- and Spine Surgery (PDF | 1.4 MB)
Multifunctional High-Speed Motor System for all Indications in Neurosurgery and Spine Surgery
Special Features:
Continuously variable high-speed handpieces with up to 100,000 rpm
Wide range of specially developed handpieces and shavers for efficient intraoperative applications
Clearly arranged menu guidance and rapid program selection thanks to integrated touch screen
Easy set-up and fast installation for a smooth OR workflow
VITOM® 3D – 3D Visualization for Neurosurgery
The VITOM® 3D system provides many surgical disciplines with a revolutionary solution for the visualization of microsurgical and open surgical interventions. Application possibilities are similar to that of the operating microscope. The most important functions are controlled via the IMAGE1 PILOT which is mounted to the OR table in close proximity to the surgeon.
Smaller, lighter and more compact than an operating microscope
Lower acquisition costs and creates synergistic effects with endoscopy by using the same video tower – thus combining the benefits of endoscopy and microscopy
Ergonomic work – the user is not confined to the eyepiece
Improved workflow – the OR team can view the procedure in the same image quality as the surgeon
Instruments for Endoscopically Assisted and Endoscopically Controlled Microsurgery
Instruments for Endoscopically Assisted and Endoscopically Controlled Microsurgery
Special Features:
À la carte concept for efficient compilation of a customized instrument set
Angled telescopes with thin diameters for space-saving keyhole surgery
Delicate and ergonomic single-sheath micro instruments with straight or bayonet-shaped design
Instruments specially adapted for use in diverse microsurgical approaches
LOTTA® System for Intracranial Neurosurgery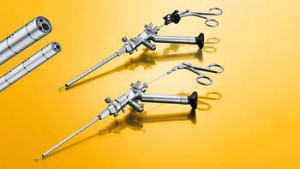 Highlights 2016 Neurosurgery – Quarter 4 (PDF | 0.9 MB)
The LOTTA® System for Intracranial Neuroendoscopy (PDF | 1.5 MB)
Special Features:
Two unique ventriculoscopes – sheath diameter 4.5 mm and 6.8 mm – for the entire range of endoscopic intracranial procedures
6° angle of view for direct visual control of instruments after exiting the working channel
Perfectly coordinated instrument sets for LOTTA® and Little LOTTA®
A wide range of support features such as, for example, possibility of rotation in the sheath and instruments with length markings for controlled application
Instruments for Endonasal Skull Base Surgery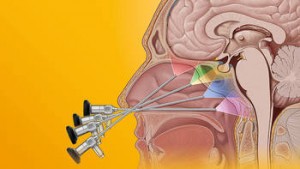 Highlights 2016 Neurosurgery – Quarter 4 (PDF | 0.9 MB)
All Instruments for Endonasal Skull Base Surgery – Endoscopy and Microscopy (PDF | 1.6 MB)
Special Features:
À la carte concept for efficient compilation of a customized instrument set
Wide range of telescopes with various directions of view
Clear visualization thanks to sophisticated and effective lens cleaning systems
Wide range of standard instruments such as curettes, dissectors, scissors, hooks and knives
Little LOTTA® Neuroendoscope for Intraventricular Procedures
Special Features:
The slender endoscope (diameter 3.6 mm) fits into a 4.5 mm sheath and is therefore suitable for treating all patients with a narrow foramen of Monro – in both children and adults, the prepontine cistern can be directly examined through the ventriculostomas
The endoscope features an irrigation and suction channel as well as a working channel which can be used with a range of 1.3 mm instruments for performing ventriculostomies, septostomies, tumor biopsies and cyst fenestration
The 1.2 mm rod lens telescope provides excellent image quality
OI HandyPro® Pediatric Neuroendoscope
Special Features:
Hydrocephalus management, cyst treatment and tumor biopsies
Pistol-grip handle design – permits single-handed endoscope guidance while using the other hand for precise instrument control
Modular design allows the use of neuronavigation
Bipolar and unipolar system-specific instruments
J&B Scalp-Dura Retractor for the Endoscopic Treatment of Craniosynostosis
Special Features:
Suitable for treating all prematurely fused skull sutures
Constant protection of the dura mater thanks to blades of different lengths
The endoscope contributes to visual support and optimally illuminates the site
Adaptable to the skull thickness
Optimal documentation of the procedure
ShuntScope – Endoscopically Assisted Shunt Placement
Special Features:
VISUALIZATION: The semirigid fiberscope with a diameter of 1 mm offers good visualization of the anatomy for optimal placement of the ventricular catheter
VERSATILITY: The SHUNTSCOPE is compatible with numerous ventricular catheters
TRAINING: Physicians can use the SHUNTSCOPE as a training tool for the correct placement of ventricular catheters
PRICE-PERFORMANCE RATIO: The SHUNTSCOPE is a reusable telescope without single-use accessories and is an inexpensive solution for assisted shunt placement
Additional information on the specialty
Fluorescence Imaging – Near Infrared (NIR/ICG)
Media type:  Video, Teaser, Product Film
Languages available:  D, E
Fluoreszenzbildgebung – Nahes Infrarot (NIR/ICG)
Media type:  Video, Teaser, Product Film
Languages available:  D, E
Endoscopic Surgery of the Paranasal Sinuses and Skull Base
Media type: Doctor-to-doctor manuals, Interactive Brochure
Languages available: D, E
Material number: 96055045E
Endoscopic Third Ventriculostomy for Rare Causes of Obstructive Hydrocephalus
Media type:  Doctor-to-doctor manuals, Interactive Brochure
Languages available:  D, E
Material number:  96025007E