KARL STORZ documentation systems from the TECHNO PACK® product family are highly versatile. The compact units feature all necessary functions for the professional use of endoscopes. The devices are universally usable as portable or stationary units. They store the generated data, display images on a monitor, and measure any identified damage.
The TECHNO PACK® devices feature brilliant image quality on large 6.4″, 12″, or 15″ monitors, a powerful light source, progressive scan, and the outstanding MULTIPOINT measuring system, which offers optimal measuring accuracy from any videoscope position and on any surface. In addition, the TECHNO PACK® is compatible with the entire product range, rendering it highly versatile. Handling is straightforward, which minimizes the required training. KARL STORZ offers on-site training anywhere in the world. All endoscopically generated images can be easily documented. The endoscopic images can then be transferred to a USB stick or SD card, directly to your computer, or onto an external monitor, as desired. Our technical consultants will be happy to help you choose the system that is just right for you.

Please visit www.karlstorz.com for more information.
TECHNO PACK® T LED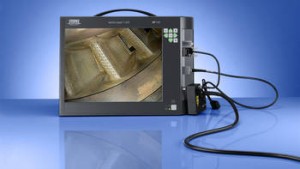 The newest generation of the TECHNO PACK® product family, the TECHNO PACK® T LED, features a large 15" monitor, progressive scan, and a powerful LED light source with an average life of more than 7 years. The excellent MULTIPOINT system for depth, length, area, and line-to-point measurements guarantees measuring accuracy in any starting position of the videoscope as well as on any surface. In addition, the TECHNO PACK® T LED is compatible with our entire product range so it can be used universally. Users experience the new, completely revised software on a modern, up-to-date user interface, which allows easily and user-friendly operation.
Special features:
Large 15″ LCD monitor for more details
Powerful LED light source
New, user-friendly software with measuring function
| | |
| --- | --- |
| Line voltage | 100 – 240V |
| Line frequency | 50 – 60 Hz |
| Power consumption | 120 W |
| Dimensions in mm | 450x350x150 |
| Weight | 7kg |
| Operating voltages | +10°C to +40°C, humidity: 5-95% relative humidity, atmospheric pressure: 500hPa – 1080 hPa |
| Storage temperature | -10°C to +60°C, humidity: 5-95% relative humidity, atmospheric pressure: 500hPa – 1080 hPa |
| Sound power level | < 50dB(A) |
| Protection rating | IP20 |
| Max. operating altitude | 3000 m |
| Light source | |
| Light | LED |
| Color temperature | 6500 K |
| Average lamp life | Approx. 20,000 hours |
| TFT monitor | |
| Screen size | 15" |
| Resolution | 1024 x 768 pixels (XGA) |
| Contrast | 700:1 |
| Loudspeaker | |
| Power | 2 Watt |
| Memory unit | |
| Memory interface | USB 2.0, SD memory card (SDHC-compatible) |
| Image format | JPEG |
| Video codec | MPEG-4 |
| Video format | PAL/NTSC |
| Interfaces | |
| Video interfaces | DVI-D (out) |
| Audio | 3.5 mm jack, 1 x microphone (1 x rear), line-in, line-out (inactive) |
Documentation systems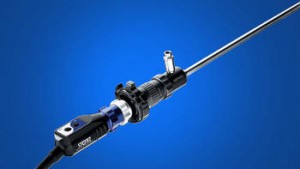 Other documentation options are available through our TELECAM SL II as well as our TELECAM DX and the FULL HD camera systems. Function keys enable fast and ergonomic entries. The patented exposure control ensures maximum illumination and brilliant image quality. The lag-free adaptation to various lighting conditions reliably prevents overexposure and underexposure on the monitor. Once the TELECAM SL II is focused, users can zoom the lens as desired; the focus is automatically maintained.
Data CCU
SL II
DX II
Automatic exposure control
Microprocessor-controlled
White balance
2132 K – 8761 K
2280 K – 6500 K
Video outputs
Composite signal to BNC connector

2x S-Video (Y/C) signal to 4-pin DIN connector

Composite signal to BNC connector2x S-Video (Y/C) signal to 4-pin DIN connector

DV signal to 6-pin connector

CCU inputs
–
Keyboard input (5-pin DIN)
Accessory connectors
2x Stereo 3.5 mm jack
Storage
Ambient temperature: -10° C … 60°C

Humidity: 20% to 95% (non-condensing)

Atmospheric pressure: 50 kPa to 106 kPa

Operating temperature
0°C … 45°C
Line fuse
2x T1.6 AL250V
Power supply
100 … 120 V or 200 … 240V; 50/60 Hz
Dimensions (w x h x d)
305 x 88 x 254 mm
Weight
2.7 kg
Single-chip CCD camera head
PAL
NTSC
Image sensor
1/2"
1/2"
Pixels
752 x 582 pixels

437,664 total

768 x 94 pixels

379,392 total

Horizontal resolution
> 450 lines
Signal to noise ratio
> 50 dB
> 52 dB
Min. sensitivity
3 lux @ f1.4
Internal lens
Optical parfocal zoom
Focal length of lens
25 – 50 mm
Instrument interface
in accordance with DIN 58105 (standard)
Dimensions
Length: 114 mm

Diameter: 28 – 43 mm

Weight: 178 g
MULTIPOINT measuring system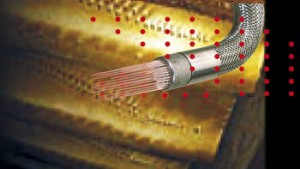 The KARL STORZ MULTIPOINT measurement technology is based on microprojectors that generate structured light points on the surface to be measured. The measured light point data are converted into 3D coordinates that span the surface to be measured. Thanks to structured illumination, even textureless and shiny surfaces can be properly measured. For rapid generation of the 3D data, the measurement software is additionally supported by proprietary algorithms. With this patented measurement technology, KARL STORZ has been supporting rapid, precise, and accurate endoscopic inspections for more than 10 years.